UMBC to Host New NROTC Unit
BALTIMORE (NNS) — U.S. Navy and Baltimore community leaders participated in a signing ceremony, Nov. 30 that formalized the creation of Maryland's first Navy Reserve Officer Training Command (NROTC) host unit.
Assistant Secretary of the Navy for Energy, Installation, & Environment Mr. Dennis McGinn and University of Maryland Baltimore County (UMBC) President Freeman A. Hrabowski III were in attendance to sign the historic documentation.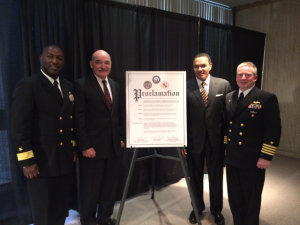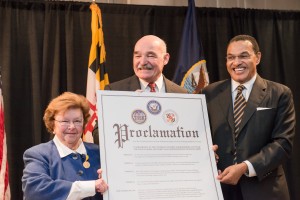 The unit at UMBC will be the first host unit in the Maryland NROTC consortium, which includes the University of Maryland, College Park.
Secretary of the Navy Ray Mabus provided final approval for the creation of the new NROTC program.
"I am pleased we are bringing professional military education and training to diverse, world-class educational environments like UMBC," said Mabus. "While this is a great opportunity for the Navy, UMBC faculty, students and the surrounding community will also benefit from the opportunity to see firsthand the pride, professionalism and versatility of our Sailors and Marines."
The agreement between the Department of the Navy and UMBC provides an opportunity for students to earn a commission in the U.S. Navy or Marine Corps through the NROTC program.
"UMBC's NROTC unit will provide an important new pathway for our students to develop as thinkers, leaders and citizens," said Hrabowski. "For years, students coming to UMBC from Maryland and other parts of the country have been asking us about this opportunity. We are delighted to be hosting an NROTC unit and look forward to strengthening our relationship with the Navy in the years ahead."
The unit's commanding officer and executive officer reported in October and have been vetted as UMBC faculty. The commanding officer also serves as professor of naval science and the executive officer serves as associate professor of naval science. The rest of the NROTC unit staff will begin to arrive at UMBC in the spring of 2016 and the first naval science classes will be taught in the fall semester of 2016.
"Establishing NROTC at UMBC not only enriches and strengthens the military and educational experience of UMBC students, but also adds to the quality, effectiveness and diversity of our Navy and Marine Corps officer ranks," Mabus said.
UMBC's diverse student population and stellar international reputation in engineering and the sciences makes the university a good fit for the Navy and Marine Corps as it seeks to meet global challenges during a time of increasing technological demands. UMBC is already listed as an option on the NROTC Scholarship Application website.
NROTC programs develop young men and women morally, mentally, physically, and instills the highest ideals of honor, courage, and commitment. The program educates and trains young men and women for leadership positions in an increasingly technical Navy and Marine Corps.
For more information about NROTC, visit http://www.nrotc.navy.mil/.
For more news from Naval Service Training Command, visit http://www.navy.mil/local/greatlakes/.