Commanding Officer
Captain John Howrey, United States Navy
Professor of Naval Science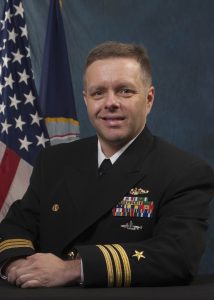 CAPT John Howrey, a native of Duluth, Minnesota, began his naval career at the Naval Reserve Officer Training Corps Unit at Iowa State University in Ames, Iowa graduating in 1994 with a Bachelor of Science in Civil Engineering.  After completing the nuclear power training pipeline, CAPT Howrey reported to USS GEORGIA (SSBN729)(BLUE) in Bangor, Washington. He served as the Electrical Officer, Tactical Systems Officer and Damage Control Assistant. He completed 5 strategic deterrent patrols between 1996 and 1999.  In 1999, CAPT Howrey reported to the NROTC Unit at the University of Colorado at Boulder as an Assistant Professor of Naval Science and Sophomore Class Advisor. During his tenure, he earned a Master of Science in Civil Engineering from the University of Colorado and was selected as the 2000 Colonel Leo A. Codd Leadership Award winner for outstanding NROTC instructor.
In 2002, CAPT Howrey reported to USS OLYMPIA (SSN 717) in Pearl Harbor, Hawaii as Weapons Officer to support Prospective Commanding Officer operations. He then reported to USS TOPEKA (SSN 754) in San Diego, California as Weapons Officer. During his tour, TOPEKA completed a Western Pacific deployment and TOPEKA earned a Navy Unit Commendation and Battle Efficiency "E" award.  After completing a Legislative Fellowship, CAPT Howrey reported to Headquarters, United States Central Command in Tampa, Florida in 2005 where he served as a Legislative Liaison in the Office of Legislative Affairs.
In 2007, CAPT Howrey reported to USS OLYMPIA (SSN 717) in Pearl Harbor, Hawaii as Executive Officer. During his tour, OLYMPIA completed an Engineered Refueling Overhaul and returned to operational status.  After completing Dari language training in Washington, DC and Combat Skills Training at Fort Dix, New Jersey, CAPT Howrey entered the Afghan HANDS program. In 2010, he reported to Combined Joint Interagency Task Force 435 in Kabul, Afghanistan, where he served as the Advisor/Mentor to the Afghan Commander for CJIATF 435. Following his year-long deployment to Afghanistan, CAPT Howrey attended the Industrial College of the Armed Forces in Washington, DC. At ICAF, he earned a Master of Science in National Resource Strategy with a concentration in Supply Chain Management.
In March 2013, CAPT Howrey reported to USS TENNESSEE (SSBN 734)(BLUE) in Kings Bay, Georgia as Commanding Officer and completed 3 strategic deterrent patrols and a Follow-on Commanders Evaluation Test. During his tour, TENNESSEE earned the Engineering Red "E", Supply Blue "E" and several safety and environmental awards. In April 2015, CAPT Howrey transferred to Submarine Squadron TWENTY as the Deputy Commander for Training where he oversaw the training, maintenance and operational performance for 10 SSBN crews.  In July 2016, CAPT Howrey reported to Navy Personnel Command in Millington, Tennessee as Branch Head for Submarine and Nuclear Surface Enlisted Assignments where he was responsible for the career management of over 30,000 Sailors.  In July 2021, CAPT Howrey reported to his current assignment as the Commanding Officer and Professor of Naval Science at the NROTC Unit, Maryland Consortium in College Park, Maryland.  His personal awards include the Defense Meritorious Service Medal (2 awards), Meritorious Service Medal (3 awards) and various other individual, campaign and unit awards. CAPT Howrey and his son Colby reside in Hanover, Maryland.